Jeff Gould likes to make things happen. That's why he set up
Fundamental
. He supports strategic innovation and mentorship for organisations that do good.
Formerly the Head of Innovation a the RNLI, he has also worked at an innovation agency, undertaken service design for a mental illness charity and raised money as a Sponsorship Director for festivals in Mumbai and Petra.
What was it about the charity sector that first appealed to you?
I would love to say that I had some great calling or grand plan, but I think, rather than me finding the charity sector, the charity sector found me. I ended up working fairly dull jobs after I left university. I was in a band and playing music at time - we weren't very good, but it provided me with a purpose and a drive. It was through playing and practicing in arts venues that I stumbled upon a very different sort of a job. A job that could could provide me with a purpose throughout the day, not just when I was rehearsing at night.

Most of the people I went to university with headed off to London to get jobs in creative agencies or big brands, but I stayed in Southampton and got a job with a national charity called Arts & Business. Looking back, it had a profound impact on my career and shaped who I am today. I discovered the joys of working with people who were fiercely passionate about what they do.

It was also there that I was exposed for the first time to what I would now call 'innovation activity.' Although that word was never used, we were solving business challenges using the skills, knowledge and talents of the amazing people in arts, heritage and cultural organisations.


After experiencing that level of passion about a cause, everything outside of the sector appeared soulless to m, and that's when I knew it was where I needed to be. Suddenly, everything from my vantage point looked soulless. This was twenty years ago, and the rise of social enterprises and businesses with purpose make the landscape look like a far more exciting prospect. Amongst many others, I have had the honour of working with people who change the world through their art, helping those with mental illness, saving lives at sea and fighting for human rights. It is these people that make the sector what it is, and their energy continues to inspire me every day.
What excites you right now in the sector and wider social impact world? Do you see important innovations emerging and new ways of creating impact?
I love the things that challenge the paradigms that stop us from getting things done. I talk about this often in respect to organisations that makes noises about doing something different, but don't want to put in the thinking and heavy lifting needed to actually make it happen. What I'm excited about are the
organisations I see doing things differently.
I'm really interested in the blurring of the lines between traditional charities and social enterprise. A great example at the moment is
Arthr
, a social venture powered by
Versus Arthritis
, that designs products to improve the standard of living for those living with that condition.
The other area that excites me is the power of activism in a digital age, and a decentralised approach to campaigning. I am not a natural-born activist and I'm in awe of those with the energy to organise and mobilise. When you see the real world difference people like Marcus Rashford have been able to make to child food poverty, and that K-pop fans have made to the US political landscape, you know that there is something powerful and different emerging in the world of grassroots activism.
What does 'purpose-driven work' mean to you and why is it important?
Without getting too deep, I think most people are looking for some sort of purpose. If you have worked in a larger corporate environment you might have been through an exercise to discover your 'why'. Simon Sinek introduced a theory called '
The Golden Circle'
which is a series of concentric circles with
'Why' at the heart of what you do
, rather than what or how you do it.
In my opinion, it's a theory that retro-fits an explanation of the success for brands like Apple, for instance. Many businesses have been set up with a purpose at heart, like Patagonia, but most have fabricated one after the fact. I have interviewed lots of people for jobs in charities and the phrase that people from outside the sector always use is 'wanting to do something with meaning'. Purpose-driven work is important because it carries the dual benefit of making a direct difference to the community you are focussed on,
whilst also providing food for the soul.
Purpose-driven work is important because it carries the dual benefit of making a direct difference to the community you are focussed on, whilst also providing food for the soul.
Jeff Gould
What has been your biggest career highlight?
I've been very lucky to do many cool things in my mission to create meaningful change, however, during my time as Head of Innovation at the RNLI, my Future Lifesaving team ran an amazing project called
Design Out Drowning,
which I reference in much more detail in my
course
.
The aim of the project was to look at the serious drowning problem in Cornwall and Devon through a new lens to try and discover the root causes. We challenged the creative community to come up with sustainable solutions to a long-term problem. The project embodied many of the things I love:
challenging convention and opening the doors to innovation.
One of the selected interventions, sand signage by David Revell of
Imagemakers,
not only won a Design Week Award in 2020, but we were also contacted by lifeguards all over the country who wanted to implement the idea themselves.
It proves that when you have a great idea, adoption is not a problem.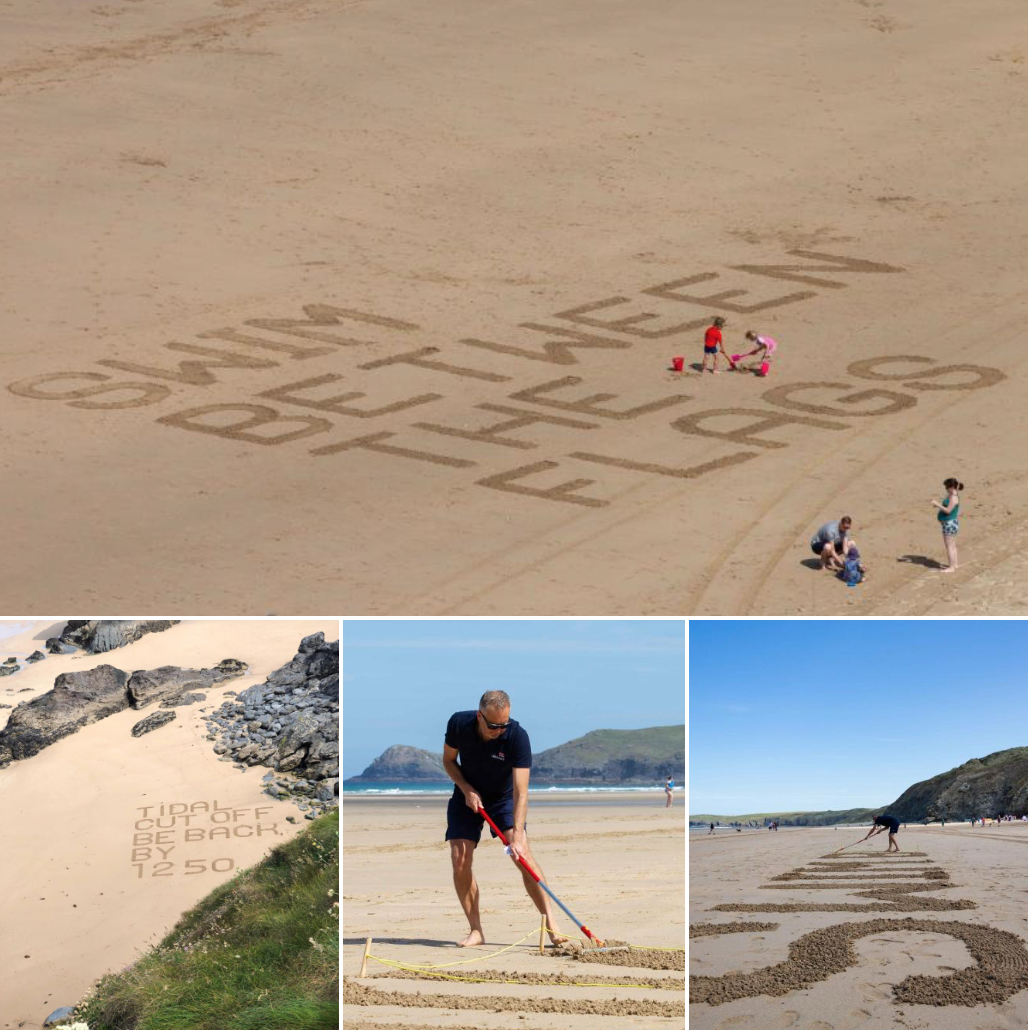 And your greatest learning?
Cause before organisation
Beware of 'growth'. This word had crept into the charity vernacular over the last ten years and might mean 'doing more good', but if a charity's aim is to no longer exist, it feels counter-intuitive to keep growing as part of a corporate plan. No one wants to celebrate a charity's birthday. You operate in a system, there might be people better placed to do it.
Define your constraints
Once you are truly honest about your constraints - which could be money, people, skills, reach - you can be open to truly disruptive ways of doing things.
Demonstrate that it will work
Test, experiment, prototype and get as much data as possible. Do whatever you need to, just don't write a business case before you are ready. If you are making things up to get someone to sign off on your project, then your best chance of success is to get lucky.
I love...challenging convention and opening the doors to innovation.
Jeff Gould
What was important to you in developing an online course and how did you find the process?
I wanted my course to be
honest, practical and hopeful:
being honest about my mistakes, my learning and that organisations aren't perfect, but hopeful that there are simple things that people can do to change that. Key to that was offering the tools to try and make that happen.
I also wanted to write a
course
that I would actually want to do myself. I have been through lots of courses in my work life, from expansive leadership programmes to mandatory online courses, and I still remember the few that actually engaged me.
I want it to be genuinely useful in people's lives.
How did I find the process? Well, it took a lot longer to write than I first anticipated. This was partly down to having to look after a two-year-old during lockdown but mostly because I wanted to put myself under pressure to offer as much value as I could. This definitely received a lot more attention than my university dissertation did 20 years ago!
How can online learning best help support to accelerate and amplify positive social change?
Sat writing this during a pandemic highlights the absolute need for online learning. I think many people's experience of online learning is probably quite mixed because it's often been seen as a way to deliver bulk training on topics that can often be dry experiences.
I think there will be more demand for the quality of online training to improve. I found that I had to mix a number of new skills, like presenting to a camera and editing with writing in an engaging way.


In terms of accelerating and amplifying change, I would like to see online learning develop into informal learning networks in the future rather than what we often have now, which is transferring the face to face experience directly online. There is so much knowledge out there that can be shared but not everyone has the time to build a formal course.
Featured Course
Innovation with purpose
Jeff leads a course on Utopy called 'Innovation with Purpose.' Go beyond theory and learn the practice of innovation. Jeff shares his hard-learnt lessons and helps fast-track you to success.
Created with